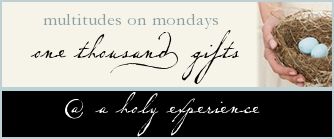 I will give thanks to the LORD with all my heart;
I will tell of all Your wonders.
I will be glad and exult in You;
I will sing praise to Your name, O Most High.
581. I am thankful that I didn't cut my finger too badly today and that the bleeding eventually stopped.
582. I am thankful that I didn't gain weight this past weekend, even though I definitely ate too much.
583. I am thankful for promises in God's Word,
1 John 1:9
, that I can repent of my gluttony and know that I am forgiven.
584. I am thankful for the honor of meeting some visitors at our church who will soon become our neighbors. What a small world . . .
585. I am thankful to see my pretty girls in pretty dresses on a beautifully sunny Resurrection Sunday morning. See pix tomorrow.
586. I am thankful for a visit from my Father-in-law this weekend.
587. I am very thankful that my Father-in-law's health is much better now than it has been these past several years.
588. I am thankful that my Mom only works 4 miles from my home and could tell me that I didn't need stitches for my finger.
589. I am thankful that my Mom is a nurse, OR RN.
590. I am thankful for friends with whom there is mutual self-disclosure, prayer and concern.
What are you thankful for today?